We now have an extensive line of Snap Frames that with the addition of our DaPlus10 lens make great changeable dry erase boards and signage and award holders.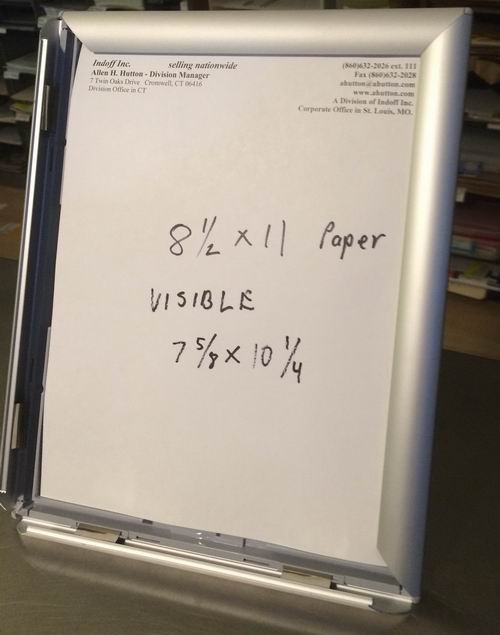 Price approximately $13 each without magnet

OPTI (UCP255N081) Frame that takes 8.5x11 sheets
Unit can be screwed into wall. Magnetic strip can be ordered to put on back to make it adhere to any steel surface or one of our hospital boards.
Visible area of 8.5x11 sheet is 7-5/8" by 10-1/4"
Overall size is 9-3/4"x12-1/4"
Frame comes with built in back and clear protective cover to protect your insert (it is not dry erase). We can provide a a high quality 8.5x11 DaPlus10 clear dry erase cover now or at a later time.
Inserts can be printed by us on Syntisol or paper and we can also design them for you to print.

Magnetic strips of .030" by 3/4" if applied to sides and top of frame approx 3 ft will be more than sufficient to make board hold to ours and be removable.

Comes with anchor kit for for drywall mount if you are using on a wall.
About Our Boards and US!
Indoff CT is a master at producing quality custom printed dry erase boards.
Remember Pricing on web is List and does not include resale and volume discounts 8/26/2016