Installation of L-Bracket
OHIO Aluminum Framed boards are MarkaSteel backed with 1/4" hardboard.
Trim is 1/4" thick with two 1/2" legs P/N A2180

Optional Angle bracket for Mounting $.50 each will need 4 per board

Screw to go into frame not supplied at present 6/15/09

SHOULD YOU HAVE ANY QUESTIONS, DO NOT HESITATE TO CONTACT US.

1. ESTABLISH A LOCATION WHERE BOARD IS TO BE MOUNTED.

2. DETERMINE HEIGHT OFF FLOOR TO BOTTOM OF BOARD. ADD 2 3/8", PUT LEVEL LINE ON WALL AT THAT HEIGHT. MAKE LINE SAME LENGTH AS BOARD. (i.e. 4', 6', 8' etc. wide) MEASURE UP 43 V2" FROM THE LINE YOU PUT ON THE WALL. (IF INSTALLING A 5' BOARD MEASUR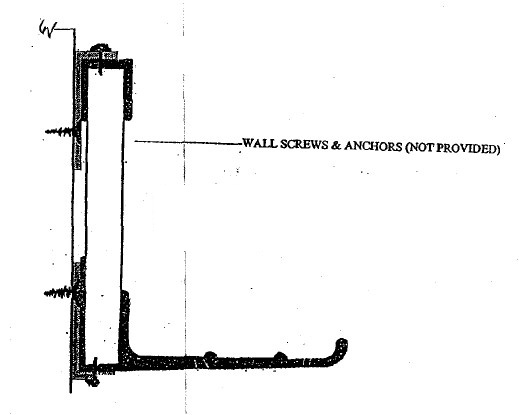 E UP 55 1/2") THEN MAKE ANOTHER LINE LIKE THE FIRST.
3. LOCATE VERTICAL STUDS IN THE WALL. STUDS ARE NORMALLY SPACED 16" OR 24" ON CENTER.
4. SECURE SCREW THROUGH LONG END OF MOUNTING CLIPS INTO STUD, ALIGNING TOP OF CLIP TO LEVEL LINE. USUAL PLACEMENT OF MOUNTING CLAPS IS ONE EVERY OTHER STUD-32" ON-CENTER. RECOMMENDED SCREW SIZE IS #10 X 2" IN LENGTH. NOTE: IF MOUNTING ON BRICK, PLASTER OR CONCRETE WALL, INSTALL PLASTIC OR METAL ANCHORS AS REQUIRED INTO WALL. SCREWS AND ANCHORS CAN BE OBTAINED AT ANY HARDWARE OUTLET.
5. FASTEN 5/8" SELF-TAPPING SCREWS THROUGH V2" EDGE OF BOTTOM CLIPS INTO BOTTOM. TAP TOP MOUNTING CLIP DOWN FLUSH WITH TOP ALUMINUM CHANNEL OF BOARD. ATTACH 5/8" SELF TAPPING SCREWS THROUGH 'A" EDGE OF TOP CLIPS INTO TOP CHANNEL OF BOARD.