On our price pages there is an item 3) This is the printed steel skin that we put inside a plastic or aluminum framed. The steel skins weight 1 lb per square ft and require a rigid backing so they don't tin-pan. On our Ohio aluminum frame we glue a 1/4" hardboard back to the skin before framing.

The Printed steel skin with or without film can a also be cut to size so it can be glued over an existing whiteboard. This works if you have a custom frame that you would like to use with a new custom printed dry erase surface.

I you need a sample of the skin skin either DaPlus filmed or plain they are available in 9" x 12" pieces.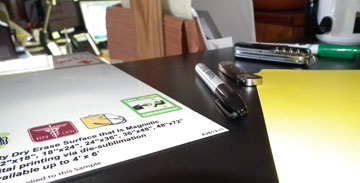 The steel we use is 24 Gauge and about .024" thick. It has been flattened so it is very flat- no curl after film is applied its about .028" thick about 1/32" or 8 sheets of 24 lb copier paper.
The steel surface if dry erase and the image if put on by dye sublimation.