Call us for a quote on full rolls. Tell us if for resale.
We can also print and Laminate with dry erase call Allen for a quote at x 111
some bare backed and some with Pressure sensitive adhesive

Magnetic Receptive Transitional Graphics- New Products

Magnetic Receptive Transitional Graphics™ Standard Stock Items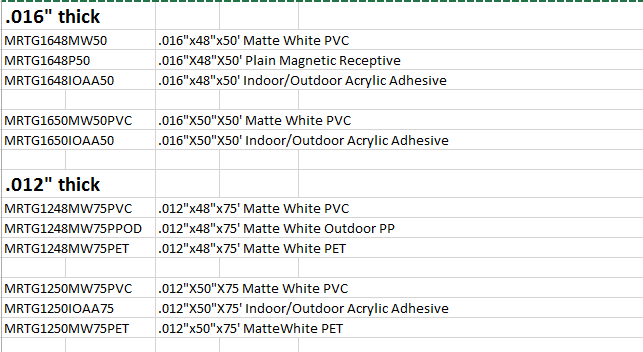 V
inyl laminate surface is designed for UV, solvent and eco-solvent inks, without the need for any top coatings. Most aqueous inks are not recommended for printing on vinyl.
Test sheets are available for both dealers and printers.
Flexiron only in 24" widths has a vinyl surface. Prints with large format solvent and eco-solvent inkjet printers, such as Roland®, Mimaki® and Hewlett-Packard®. It is .010" to .0375" thick.
FerroSheet
We sell a superior .003" clear PSA dry erase film see DaPlus
About Our Boards and US!
Indoff CT is a master at producing quality custom printed dry erase boards.
Remember Pricing on web is List and does not include resale and volume discounts 3/16/2014